Not only is it tax time, but it's also the time of year to think of your maple gym floor.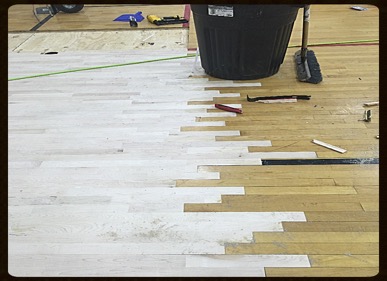 It is a fantastic opportunity for the end user to have all athletic floors, dance floors, aerobic floors and even stages inspected… FREE by Floors Incorporated. Floors Incorporated will provide a quote to provide the annual maintenance that is recommended by the Maple Floor Manufacturers Association, the MFMA.
Maple gym floors should be mildly abraded using a buffing machine with a medium to fine screen annually and another coat of finish applied. Sounds simple, but so much more is involved. Many end users chose to complete this task on their own. Sometimes the custodial staff completes the annual maintenance. Mostly, with mixed results.
Many times, Floors Incorporated completes the annual maintenance with better outcomes, with additional services included, and almost always cheaper than the custodial staff.
Often, a gym floor needs repairs from the day to day hard use that most gyms get. Floors Incorporated, will make any needed repairs using the best techniques as recommended by the manufacturer and our nearly 40 years of business in the athletic floor industry. It is best to do this prior to the annual recommended maintenance.
At the same time, any game line touch ups can be made. Floors Incorporated can also add any logo or game lines prior to the maintenance. We will also re-attach any wall base that has become detached, or provide new base. We can also repair or provide new thresholds.
After repairs have been made, game line repairs, possible logos or game lines have been added, we will thoroughly vacuum and do a final inspection of the floor surface. After the floor has been properly prepared, a single coat of floor finish, that has been formulated for use on an athletic floor, will be applied.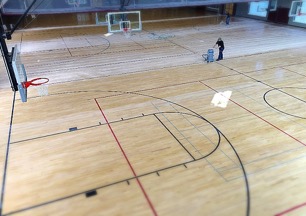 Call us at 815-338-6566 or email us at info@floorsinc-illinois.com to sign up for a free inspection and quote for the annual maintenance for all your athletic floor needs. I promise, you will love the outcome, and free up the custodial staff for other needed tasks, while, in many instances, saving money!