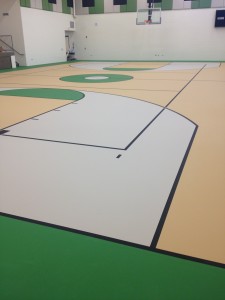 Floors, Incorporated is an accredited contractor of Robbins Sport Surfaces and of the Maple Flooring Manufacturers Association. We are a family owned business located in Woodstock, Illinois. Along with our manufacturing partners, we provide athletic floors for every level of activity, at a variety of price points. We assist architects and end users in choosing the best floor for every indoor athletic floor application. We also specialize in new flooring graphics and game lines.
Floors, Incorporated offers a free evaluation of existing floors and recommendations on how to proceed with repairs (if needed), sanding of wood floors (if needed) and yearly and daily maintenance.
Contact Floors, Inc. Today to Learn More About
Athletic Flooring for Your Facility!