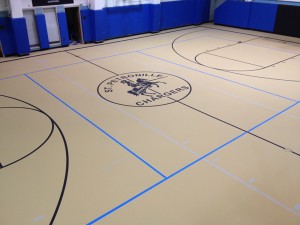 Floors, Incorporated has installed synthetic floors with great success for 30 years. Our lines of synthetic floors offer hygienic, high shock absorption, good ball response with exceptional durability and superior wear-resistance for indoor applications.
The synthetic floors we market and install are unique, versatile and are well suited for weight rooms, walking and running tracks, multipurpose rooms and many other usages. Please contact Floors, Incorporated for assistance in choosing the correct product for your facility.
One of the most successful floors we market is Pulastic. This floor incorporates a recycled rubber shock pad (which can contribute LEED points) with a hygienic, seamless, and non mercury polyurethane structural layer topped by a tough water based topcoat (which can lead to more LEED points). An impressive list of installations by Floors, Incorporated is available upon request.
Pulastic comes in multiple levels of performance characteristics for every level of play.
View some of our recent work and product samples:

Contact Floors, Inc. Today to Find Out
How Pulastic Can Be Used at Your Facility!